Things You'll Need
Nail polish remover

Paper towels

Sand paper, fine grit

Rubber gloves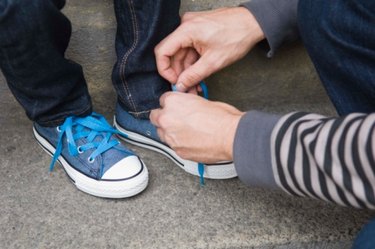 Converse shoes are popular with children and make a fashion statement. However, your child may have decorated them with Sharpie markers. There's no reason to fret if you don't approve of your child's design or if your child has a change of heart about the design. Remove permanent marker effectively with common items you probably have at home.
To remove Sharpie from your Converses, you need to be able to use nail polish remover and sand paper.
Step 1
Put on your rubber gloves. Pour nail polish remover on a paper towel. Gently rub over the marked-up areas. Let the nail polish remover soak in for one to two minutes.
Step 2
Wipe the marked-up areas with a dry paper towels. If necessary, dab the affected areas again with a paper towel soaked in nail polish remover. Let the sneaker soak for a bit. Wipe it with a dry paper towel. Let the sneakers dry off completely.
Step 3
Sand off any remaining stains with sandpaper, applying gentle pressure.
Warning
Nail polish remover can irritate your skin, so it's best to wear rubber gloves.
Always use nail polish remover in a well-ventilated area.