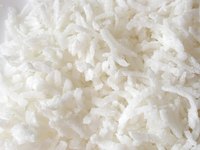 Dyed, shredded coconut provides a convincing background for any number of decorations on a cake. Green coconut works well as grass, yellow coconut makes a whimsical duck and blue or green can be used to make cartoon characters. Food coloring is nontoxic, so it's safe to use on anything edible and flaked coconut is porous enough to easily absorb the colors.
Things You'll Need
Sweetened, shredded coconut
Gel food coloring
Waxed paper
Zip-top bag (optional)
Place 1/2 cup of sweetened, shredded coconut in a bowl.
Add 1 drop of gel food coloring to the bowl.
Mix the coconut with a spoon until the color is even throughout the coconut.
Add more food coloring and mix again until you're happy with the color intensity. If the color is too dark, add more sweetened, shredded coconut and mix again.
Pour the coconut onto waxed paper and allow it to dry before you use it.