Things You'll Need
Double boiler

Sharp knife

Heavy cream (optional)

Spoon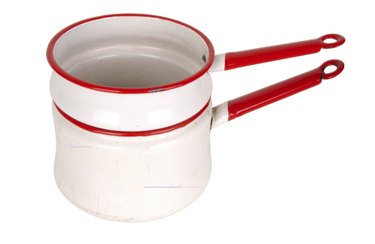 Muenster is a type of American cheese often confused with the French Munster cheese. Its name is derived from a translation of the name of the German city, Münster. Muenster has a flavor reminiscent of sharp jack cheese combined with common American white cheese, with a soft texture and melts quickly under the right conditions. However, if you melt it incorrectly, the cheese will burn. To melt Muenster cheese, allow for approximately six minutes per cup.
Step 1
Fill the bottom pan of a double boiler 3/4 of the way with water. Place the double boiler over medium heat and allow the water to come to a rolling boil.
Step 2
Slice the Muenster cheese into 1-inch cubes with a sharp knife as the water comes to a boil. If you are working with sliced cheese, cut into 1-inch-thick strips.
Step 3
Place the cheese cubes or strips into the top pan of the double boiler. Reduce the double boiler's heat to low. Add 1 tbsp. heavy cream per 1 cup of cheese if you are making a dipping sauce.
Step 4
Stir the cheese with a spoon as it begins to melt. Continue stirring until the cheese is a smooth, even consistency.
Tip
If you do not add the heavy cream, the cheese will solidify as it cools.