Things You'll Need
Stencils

Masking tape

Paint pens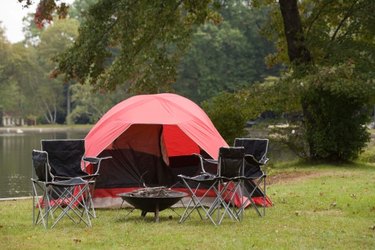 In the 1960s, people often decorated their patios with personalized director's chairs. These folding chairs had canvas seats and backs, and you ironed letters onto the back portion to indicate the name of each chair user. Today's patio sitter or camper is more apt to use a nylon folding chair that slips into a bag. While these chairs are lighter and easier to manage, you can't iron on them without melting the fabric. Use another method to decorate and personalize your family's camping chairs.
Step 1
Take the chair out of the bag and set it up on the grass outdoors in the shade. Push down any levers or locks to secure the chair into the open position.
Step 2
Position letter stencils across the back of the chair to make the name of the chair's owner. Stick masking tape all around the stencil to hold it in place.
Step 3
Fill in the spaces in the stencil with paint from a paint pen. These pens hold acrylic paint which dries quickly. They are easy to handle and very accurate, being about the size of a basic marker.
Step 4
Tape design stencils around the name on each chair to further personalize each one. Add dinosaurs, flowers, cars or anything else your kids enjoy. Get into the fun with adult chairs by adding wine glasses, fishing designs, quilt squares or anything else to indicate your personal hobbies. Fill in each stencil design with paint pens in multiple colors.
Step 5
Remove the stencil and tape and allow the paint to dry completely before you use the chairs. This usually takes about 3 to 4 hours.
Warning
Keep the paint pens away from small children, as the paint is permanent.
Always check the chair to make sure the paint is dry before using it the first time.