Things You'll Need
Two chicken breasts

1/2 cup milk

Bowl

Plate

2 tbsp. flour

Salt

Pepper

Paprika

2 tbsp. vegetable oil

1/2 cup barbecue sauce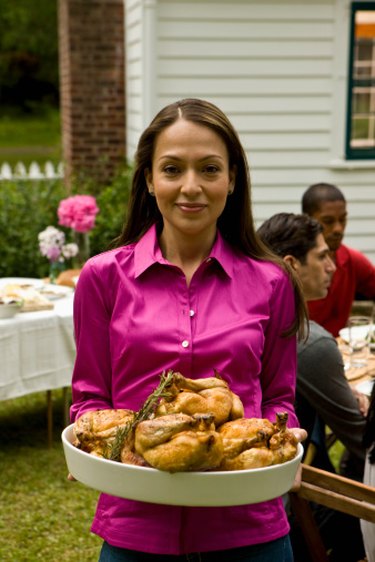 Barbecue sauce can be used to give your chicken a sweet, tangy or sometimes even spicy flavor without adding a lot of fat. Although you may feel like you are marinating your chicken for hours, if the barbecue sauce does not stick to the chicken, you may not taste it. To make barbecue chicken that is moist and full of that saucy flavor, you will need to follow a few simple steps to keep that sauce sticking onto your moist chicken.
Step 1
Rinse two chicken breasts with cold water.
Step 2
Dry well with paper towel. Throw out the paper towel immediately.
Step 3
Pour 1/2 cup milk into a bowl and place the chicken in the bowl. Leave the chicken in the bowl while you are putting together the flour mixture.
Step 4
Pour 2 tbsp. flour on to a plate. Add a pinch of salt, pepper and paprika to your liking. This helps make the barbecue sauce flavor taste even bolder.
Step 5
Dip the chicken into the flour mixture. Try to get as much flour to stick to the chicken as possible. Flip the chicken breast and dip the other side in the mixture.
Step 6
Place a frying pan on the burner and pour in 2 tbsp. of vegetable oil. Put the heat on medium and carefully place the chicken in the pan. Cook for about three to four minutes on each side. The chicken should be brown.
Step 7
Pour 1/2 cup barbecue sauce over the chicken. Disperse evenly between both sides of the chicken.
Step 8
Cook for an additional minute on each side.
Step 9
Remove from heat and serve immediately.
Warning
Wash hands and surfaces that touch the chicken, as raw chicken carries bacteria.