Things You'll Need
White or clear balloons

Glow-in-the-dark paint

Balloon hand-pump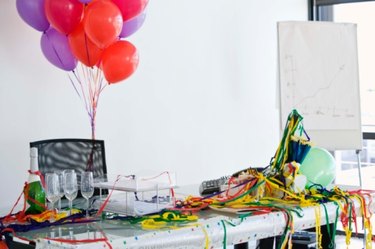 Even in a modern world full of rapidly enhancing technology and handheld gadgets, glow-in-the-dark items still hold a touch of mystery. These brightly glowing items provide diffused light at blacklight parties, an eerie glow to Halloween decorations and may even be a comforting nightlight to little ones. When you need glowing decorations in a pinch, balloons are the way to go. They're versatile and come in bulk. Even though commercial glow-in-the-dark balloons are expensive, you can decorate the ones you already have for little more than the cost of the balloons themselves.
Step 1
Gently knead and stretch each balloon vertically and horizontally. This warms the balloons and makes them more elastic. Don't use black or dark balloons; white and clear work best because you can see the paint through the mylar.
Step 2
Push two fingers into the mouth of your first balloon and spread them apart, holding the balloon open. Squeeze about ½ teaspoon of paint to the inside of the balloon.
Step 3
Gently knead and mash the balloon in your hands, pinching the mouth tightly closed. This should coat the inside of the balloon with glowing paint.
Step 4
Fit the mouth of each balloon over a hand-pump to blow them up. Do not use your mouth; you shouldn't ingest any kind of paint as it could be toxic.
Step 5
Blow up each balloon right after you add the paint before it dries. If you wait for the paint to dry before inflating, the dried paint will pull at the balloon and make it pop.
Step 6
Tie off each balloon and string as you like. The paint may not be evenly distributed inside the balloon, but the mottle effect will add visual interest.