Things You'll Need
Scarves and drapes of material in deep colors

Luminous fabric paints

Brush

Candles

Books about tarot and fortune telling

Table

Deck of tarot or playing cards

Round glass bowl

Battery operated fairy lights

Silver foil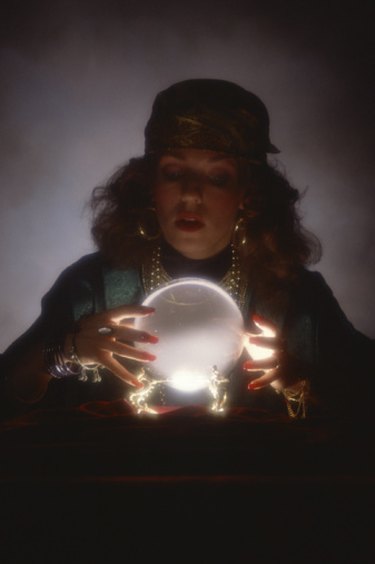 Creating an authentic-looking fortune teller's booth is all about getting the correct atmosphere. Get it right and your customers will start feeling the magic as soon as they enter. It is simple to create a gypsy atmosphere with draped scarves, candles and a few mysterious symbols. Stars and moons are fortune teller favorites. Keep lighting low to add to the magical ambiance and ensure customers are relaxed as you start to look into their future.
Step 1
Drape fabric and scarves over as much of the room or space you are using for your booth as possible. Cover any electric lights with flame resistant fabric to create low, colorful lights.
Step 2
Place a table in the center of the room. Drape it over with black or dark cloth. Paint stars and other magical looking symbols on top of it using luminous craft paint and leave to dry.
Step 3
Place a few fortune telling books on the edge of the table along with the deck of cards. Even if you don't use cards for your fortune telling it will add to the atmosphere.
Step 4
Scrunch up silver foil to create a "nest" that is larger than your glass bowl and place it in the center of the table. Bunch battery-powered fairy lights in the center of it, hiding the battery box within the silver foil. Place the glass bowl over the top so the lights are all inside it, shining out. Cover the bowl with a scarf.
Step 5
Place candles at each end of the table and around the room.
Warning
Lit candles should never be left unattended. Use flame resistant fabrics to help safeguard against accidents.