Things You'll Need
Paper toweling

Plastic scraper or plastic knife

Waterless hand cleaner

Dry-cleaning solvent

Clean cloth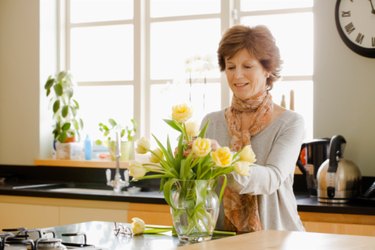 Floral tape is used to help floral arrangements retain their shape and look their best for the longest possible time. In working with the tape, the glue on its sticky surface can easily transfer to your hands, clothing and furniture. Try these tricks for removing it.
Step 1
Wet a wad of paper toweling.
Step 2
Wipe your hands with the wet toweling as you work. This will minimize the stickiness until the arrangement is finished.
Step 3
Scrape lumps of floral-tape residue using a plastic scraper or knife.
Step 4
Put waterless hand cleaner directly onto the floral tape residue and rub it with your fingers. This will cause the residue to pill, which will make removal easier.
Step 5
Blot upholstery or carpeting with a dry-cleaning solvent and clean cloth.