Things You'll Need
Wax paper

1 tbsp.butter

Small square of wax paper

Freshly dipped caramel apples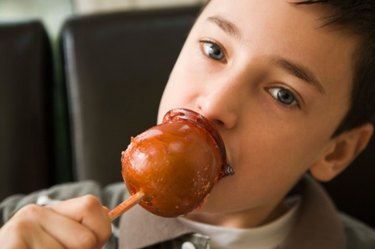 While candied apples were created in the early 1900s, caramel covered apples only began to gain popularity during the mid-1950s. Afresh apple is dipped in warmed liquid caramel by use of a flattened stick, inserted into the core. Toppings, such as nuts and sprinkles, can be added as an extra treat.apples are then cooled on a sheet of wax paper, stick side up, to harden for one to two hours.
Step 1
Place the wax paper over the flat area where the apples will be cooled.
Step 2
Place the butter on the middle of the wax paper.
Step 3
Smear the butter evenly over the wax paper, using the smaller piece of wax paper to move it around the large piece.
Step 4
Place the freshly dipped caramel apples on the wax paper, so they are spaced evenly without touching.
Step 5
Cool the apples on the wax paper for one to two hours.
Step 6
Slowly peel the wax paper from underneath the apples, from one edge to another.
Tip
You can use 2 tbsp. of vegetable oil or non-stick spray as a substitute for butter, though it will not have the same rich flavor.
Warning
Always place an oil base or substance over the wax paper to ensure the apples do not stick.