Things You'll Need
Floral shears

Vanilla beans

Spices

Mortar and pestle

Herbs

Tray

Mason jar with seal and lid

Nut, olive or essential oil

Cheesecloth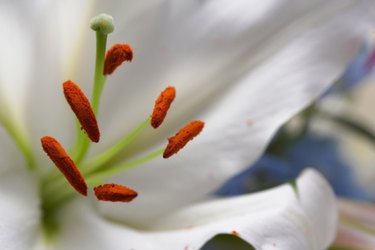 Scented oils contain highly concentrated essences used for aromatherapy and perfume. To make a customized fragrance that suits your tastes, add aromatic garden plants such as lilies, hyacinths, roses and lavender to either unscented oils or prepared essential oils. Use the scented oils in the bath to moisturize and soften skin, or apply a small amount to your pulse points for a fragrant, natural, inexpensive alternative to perfume.
Step 1
Cut off fresh, fragrant flower heads with floral shears. Cut enough flowers to loosely fill a Mason jar. Cut off leaves for any herbs you wish to add to your flower infusion.
Step 2
Grind up vanilla beans and spices with a mortar and pestle if you want to add a vanilla or spicy scent to your infusion.
Step 3
Rinse the flowers and herbs and set them on a tray to air dry overnight, along with the vanilla beans and spices.
Step 4
Place the petals, leaves, ground spices and vanilla beans in a clean glass Mason jar. Cover the petals with a lightly scented oil such as olive, almond or macadamia nut oil. If you want the petals to complement another scent, you can use scented essential oil instead. Place a seal and lid on the jar and allow it to sit in a warm cupboard for three days or more. The more you allow the infusion to sit, the stronger the scent will be.
Step 5
Strain the oil through cheesecloth into a clean Mason jar. If the fragrance is too weak, add more fresh flower petals to the oil and allow the infusion to steep for another three days.