Things You'll Need
Plastic bags

Food ties

Refrigerator crisper drawer

Cool water

Paper towel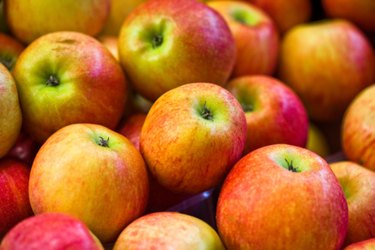 Apples, like all other fruits and vegetables, tend to go mushy and spoil when not kept properly. An apple is sought after for its crisp, crunchy and either tangy, sweet, spicy or tart taste. When an apple loses its crisp bite, it is not as enjoyable. You can keep your apples crisp by following a few easy techniques so that when it is time to eat an apple, it will be crunchy and delicious.
Step 1
Place the apples that you have in a plastic bag carefully so that you do not bruise them or give them soft spots by dropping them on top of each other too hard. Close the top of the plastic bag and twist a food tie around the bag so it stays closed.
Step 2
Place the bag of apples into the crisper drawer in your refrigerator. This will keep the apples crisp and crunchy for a longer period of time. If you do not have a crisper drawer in your refrigerator, you may store the apples in the coldest part of the fridge instead.
Step 3
Wash the apples under cold water before eating. Remove the stems by twisting and pulling them out. Dry the apples off with a paper towel. You can now enjoy a crisp and crunchy apple.
Tip
Storing your apples in the crisper drawer of your refrigerator or the coldest part of your refrigerator will keep the apples crisp and crunchy for up to six weeks.