Things You'll Need
3 thick, boneless 12 oz. rib-eye steaks

2 15 oz cans beef broth cans

1 8 oz package of dry onion soup mix

2 carrots, chopped

1 yellow onion, chopped

1 white potato, chopped

1 cup button mushrooms, sliced

Seasonings, salt and ground pepper to taste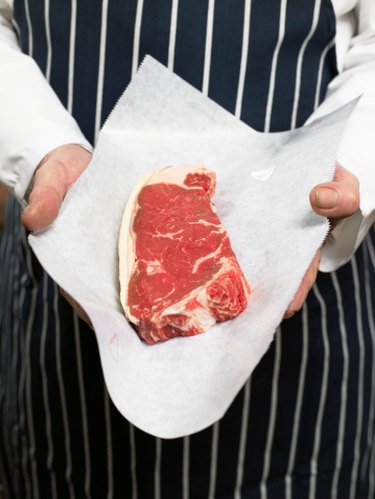 Rib-eye steaks are highly marbled cuts of beef known for their tenderness. The steaks are typically boneless, making them easy to cook in a crock-pot. When slow-cooking rib-eye steak, make sure you don't overcook them as they are smaller than roasts and don't take as much time to prepare. Customize the recipe by adding fresh vegetables, such as onions and carrots, as well as herbs and seasonings to the slow cooker along with the steak.
Step 1
Place three thick 12 oz. boneless rib-eye steak into a crock-pot. Pour two 15 oz. beef broth cans over the steaks. Sprinkle one 8 oz. dry onion soup mix over the ingredients.
Step 2
Peel and chop two carrots, one yellow onion and one white potato and add them to the slow cooker. Slice one cup of button mushrooms and add them to the pot as well.
Step 3
Sprinkle garlic powder, salt, ground black pepper and dried herbs, such as thyme, into the pot to taste. Cover the crock-pot and set the temperature to "high."
Step 4
Cook the steak for 1 1/2 to two hours, or until the steak is cooked through and the vegetables are tender. Medium steaks will read between 140 and 145 degrees Fahrenheit and well-done steaks will read 160 degrees Fahrenheit when checked with an instant-read food thermometer.