Things You'll Need
Drop cloth

Ladder

Eye protection

Dust mask

Drill with masonry bit

Anchors

Retaining screws

Screw gun

Mounting bracket

Wire nuts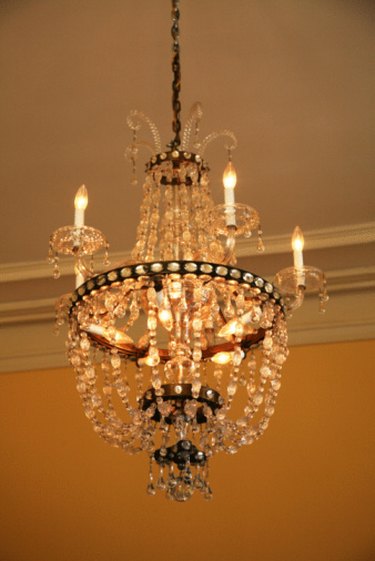 If you have a dinning room or entryway that needs new lighting, you may want to hang a chandelier. Homeowners with concrete ceilings see this as a formidable task that can be done only by an electrician or home contractor. Hiring either will cost plenty, and you can better spend that money on other things. But you can complete the task yourself with some tools and a can-do spirit. Before starting, have the ceiling wired by an electrician if it is not already wired.
Step 1
Shut off power to the electrical outlet or wires you are connecting the chandelier to in the concrete ceiling. Move any furniture from under where the chandelier will hang. Put a drop cloth on the floor under the installation area to catch falling concrete dust.
Step 2
Put on eye protection and a dust mask. Drill pilot holes into the concrete ceiling with a masonry bit. Insert anchors into the pilot holes and hammer in flush with the ceiling using a rubber mallet. Secure the mounting bracket to the pilot holes using retaining screws and a screw gun.
Step 3
Ask an assistant to hold the chandelier while you connect the electrical wires. Wrap the ground wire around the ground post on the mount. Twist the positive and negative wires together. Secure both wires with wire nuts. Fasten the chandelier to the mounting bracket with screws or by turning it into the mounting bracket. Let the chandelier down easily and steadily. If installing the chandelier in the dining room, hang the chandelier 30 to 36 inches above the dining room table.
Step 4
Ask your helper turn the power back on and light the chandelier to test. Remove the ladder, drop cloth and replace the furnishings underneath the newly installed chandelier.