Things You'll Need
White and black face paint

Makeup applicator sponge

Black makeup crayon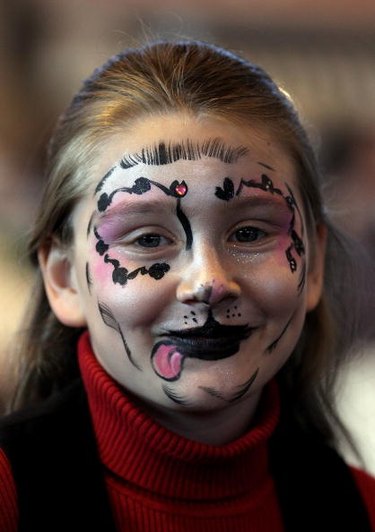 A dog is a great look to have in your face painting repertoire. Dogs are so popular with children and adults that you are sure to get a lot of requests for this one. Add a dog collar and some ears and you'll have an easy, low maintenance Halloween costume. However, this is such a fun and cute makeup idea that it can be employed year round, at children's birthday parties and a range of other celebrations.
Step 1
Fill in the entire face with white makeup using the applicator sponge, except for a circle around one eye and the tip of the nose.
Step 2
Apply black paint to the circle around one eye using another sponge. Use the sponge to fill in the tip of the nose, the nostrils, and the underside of the nose with black paint.
Step 3
Draw a wide "U" shape using the black makeup crayon down from the center of the underside of the nose out to the right side of the mouth. Draw a similar shape going from the center of the nose the left side of the mouth. Draw 3-5 black dots inside the "U" shapes.
Step 4
Draw some whiskers on the cheeks using the black crayon. You may want to add additional black spots on the face using the crayon.
Warning
Paint can be irritating to the skin so make sure you use water based, hypoallergenic and nontoxic paints.