Things You'll Need
Laundry detergent

Towels or other bed linens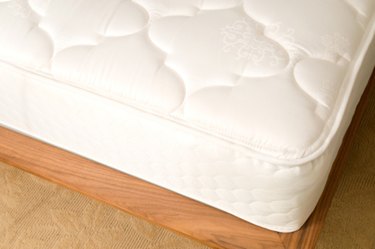 Protect-a-Bed is a cover for your mattress. Your mattress fits right inside the Protect-a-Bed and the cover zips up to keep your mattress clean. Made of polyurethane laminate, it is waterproof and protects against dust mites, bedbugs and stains. The Protect-a-Bed mattress cover does require periodic washing--every couple of months or as needed when it becomes soiled or stained. Wash it the right way to ensure you don't damage the fabric in the process.
Step 1
Take the cover off the mattress. Close the zipper on the Protect-a-Bed so it's zipped up about 12 inches from the closed position.
Step 2
Set your washer to the hottest water temperature setting and a normal wash cycle. As the washer is filling with water, add the recommended amount of detergent according to the bottle. Avoid using any type of bleach including bleach alternatives, chlorine bleach, oxygen bleach or non-chlorine bleach. Choose a detergent that is free of bleach as well.
Step 3
Completely submerge the Protect-a-Bed in the water and allow it to run through a complete wash cycle.
Step 4
Take the mattress protector out of the washer and toss it in the dryer. Tumble-dry the protector with a few towels or other bed linens on medium heat.
Tip
Do not dry-clean your Protect-a-Bed.