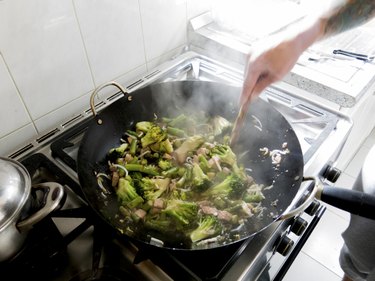 Start to Finish: 20 minutes Servings: 4 Difficulty: Intermediate
The glossy appearance of the sauce that accompanies take-out stir fried beef and broccoli comes from the addition of cornstarch, which acts as a thickener and helps seal in the meat's juices. If you're out of cornstarch or prefer not to use it, flour can provide a substitute. Flour will result in a sauce will have a cloudier appearance and may have a slightly more starchy flavor than beef and broccoli made with cornstarch.
Ingredients
1 pound flank steak, cut across the grain into slices about 1/4-inch thick
4 tablespoons all-purpose flour
1 tablespoon olive oil or vegetable oil
3 garlic cloves, minced
Sauce 3 tablespoons sherry 1/2 cup soy sauce 3 tablespoons brown sugar 2 teaspoons minced ginger
1/2 cup chicken or vegetable broth
2 cups broccoli florets, cut into bite-size pieces
1 tablespoon sesame oil
pinch of red pepper flakes
Prep the Beef
Dust the sliced beef in 1 tablespoon of the flour. An easy way to do this is place the beef and flour together in a ziptop bag, and shake until the beef is thoroughly coated.
Place the oil in a wok or large shallow frying pan over high heat. When the oil looks shiny, add the beef strips and stir constantly using tongs or a spatula until browned on both sides. Remove from the pan and set aside.
Create the Sauce
Place the wok or pan back onto the heat and add the garlic. Stir for a minute or two -- until fragrant -- and add the sauce ingredients -- cooking sherry, soy sauce, brown sugar and ginger. Stir until the sauce comes to a boil and the sugar dissolves.
In a separate bowl, stir together the broth and remaining 3 tablespoons of flour. Add all at once to the sauce and bring the mixture back up to a boil. Cook for 3 to 5 minutes, until the sauce thickens. Reduce the heat to medium or low, so the sauce just simmers.
Return the beef to the sauce, stir thoroughly, and add the broccoli. Cover so that the broccoli steams through -- about 3 minutes. You'll know the broccoli is done when it turns a brilliant green.
Remove the pan from the heat and stir in the sesame oil and red pepper flakes. Serve immediately over mounds of white rice.
Tips
Use low-sodium soy sauce if sodium is a concern for you.
Arrowroot powder provides another alternative thickener for stir frys. It yields a glossy, clear sauce and doesn't have gluten. Arrowroot can be more expensive, though, than flour and cornstarch. Use half as much arrowroot as you do flour in this recipe, but add it in the same way -- creating a slurry that you add to the sauce and bring to a boil to create a thickening effect.
Be careful not to cook the stir fry too long. You'll end up with murky green broccoli and a sauce that thins out, a side-effect of using flour.