Things You'll Need
Photos

Ceramic or plastic plate

Inkjet printer or color copier

Transfer paper

Water

Varnish

Brush

Printed photos

Gel medium

Clear plate

Brayer

Rag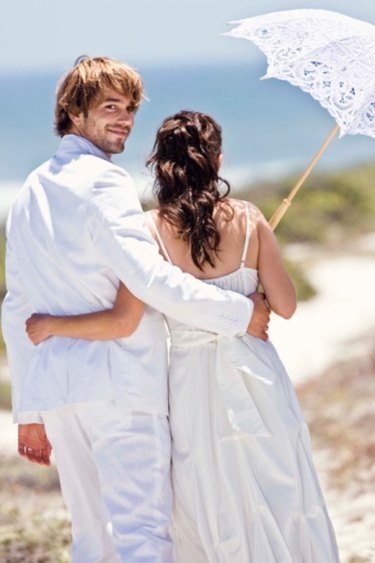 Photo plates are a wonderful way to personalize special celebrations, provide mementos of wedding days or gifts for proud grandparents. Any photo can be transferred to paper, ceramic, perspex or glass surfaces. There are a number of techniques available for beginner or accomplished crafters to use when transferring a photo to a plate. If you are too busy to craft the plate yourself, there are companies that will do it professionally for you.
Step 1
Personalize paper plates for graduations, birthdays, children's parties and baby showers. All you have to do is select a photo and save it to your computer in a jpeg format. Search Hallmark.com for the paper plate design that best suits your occasion. Click on the plate to access the template. Click on the "Personalize" button. Click on the "Add" button in the photo area to upload your own picture. Click on "Preview" to see what the plate looks like. Click on the "I Approve, Continue" button to continue to checkout. Here you will be prompted to fill in your shipping details, quantities and payment information. The plates will be delivered to your door.
Step 2
Order personalized photo plates by searching on the Internet for companies in your area that offer this service. You can purchase water activated transfer paper from your local computer supply store to transfer the images yourself. Use a transfer paper that suits your printer or color copier. The transfer paper will have a list of suitable printers and copiers on the back. Open your image in a software design program. Crop, color or add text the the picture until the image is complete. Remember to mirror text. Print the image onto the transfer paper and trim off excess transfer paper around the image, leaving a border of a ¼ inch. Soak the transfer paper in water for two minutes. Slide the back off the transfer and paste it onto the plate. Smooth it down to remove bubbles. Allow it to dry for 24 hours. Vanish with a brush to protect the photo.
Step 3
Decoupage photos onto clear glass plates using a gel medium. Print photos on your inkjet printer on plain white paper. Trim off excess paper to fit the back of the plate. Turn the clear glass plate face down on a flat surface. Coat the back of the plate and the photo with a gel medium using a paint brush. Gel medium is available from art and hobby stores. Release any air bubbles by rubbing the back of the paper with a brayer. Wipe off any excess gel medium with a rag. Allow the plate to dry for 24 hours.