Things You'll Need
Pastry brush

Truffle slicer

Salad, pasta dish, chicken or fish entree

Knife

Room temperature butter

Olive oil

Air tight container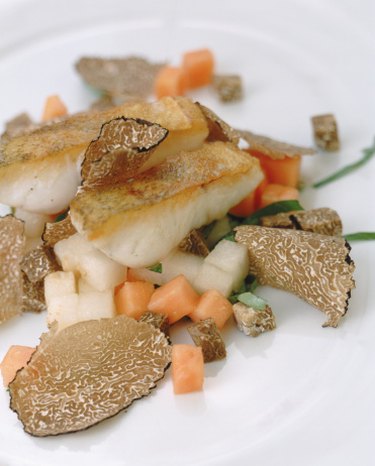 Truffles are a rare fungus that grow a few inches underground, often near the roots of oak trees. Truffles are prized by gourmands for their earthy aroma and rich flavor. Given their scarcity and demand, the price of truffles range from $600 per pound to several thousand dollars per pound. There are four varieties of truffle, each with their own unique flavor composition: white truffles, black summer truffles, black winter truffles, and Tuscan truffles. Black truffles are best eaten raw or slightly warmed, or can be blended into butter or olive oil to serve as an accompaniment to a dish.
Black Truffles as a Garnish
Step 1
Gently clean any dirt from the truffle with a pastry brush.
Step 2
Shave four or five slices of black truffle with a truffle slicer for each portion to be served.
Step 3
Place slices of black truffle on top of a salad, soup, chicken or fish entree for service.
Truffle Butter and Oil
Step 1
Gently clean the truffle with a pastry brush to remove any dirt.
Step 2
Finely mince the truffle with a knife.
Step 3
Mix the minced truffle into the room temperature butter to make truffle butter, or add it to a bottle of olive oil to make truffle oil.
Step 4
Add the truffle butter or oil to any fish or chicken dishes prior to service to add the truffle aroma, or you can incorporate the truffle oil into salad dressings.
Step 5
Store unused truffle butter or truffle oil in an air-tight container in the refrigerator and consume within one month.
Tip
A truffle slicer is a small, flat single-edge grater designed specifically to cut thin slices of truffle and can be obtained from a food specialty store.