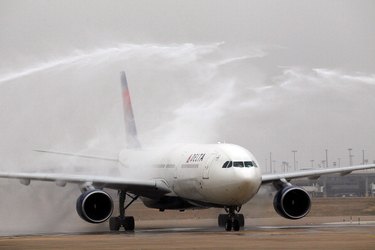 Knowing your Delta Airlines ticket number is useful for several reasons. You can use the 13-digit number for online checkin or may need it for receiving mileage credit for the trip with Delta SkyMiles or a partner program. Delta customer-service representatives can help you retrieve a ticket number.
Step 1
Gather any information you can find such as your reservation confirmation number, flight number and flight date and time.
Step 2
Call the Delta Reservation Sales line, open 24 hours a day, 7 days a week. Call 800-221-1212 for travel within the United States or 800-241-4141 for travel in the rest of the world.
Step 3
Follow the recorded prompts. The system will use your answers to connect you to the appropriate operator.
Step 4
Explain your situation to the Delta operator and request your ticket number.
Tip
Find the ticket number of any tickets that were redeemed by mileage credits by logging into your SkyMiles account on the Delta website. Click on "Manage My Account" and then on "View Account Activity." While all your registered flights appear, only the ones redeemed with credits contain the ticket number.