Things You'll Need
Towel

Knife

Pot

Bowl

Baking sheet

Storage bag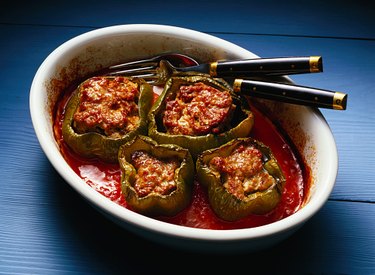 Green peppers stuffed with meat, rice, breading or other vegetables makes an appetizing main course. Freezing excess peppers for later stuffing ensures you always have ingredients on hand. Peppers are typically frozen without blanching, but stuffed peppers become soggy if unblanched frozen peppers are used as the shell. Blanching stops the enzyme process in the pepper flesh so the peppers retain more of their color and flavor when later baked with the stuffing.
Step 1
Wash the green pepper under cool-running water. Do not soak the pepper or it absorbs moisture, which causes freezer burn. Dry the surface of the pepper with a towel.
Step 2
Cut the top off the pepper with a sharp knife. Remove the seeds from the interior of the pepper and dispose of them.
Step 3
Bring a large pot of water to a boil. Set bowl of ice water next to the boiling water.
Step 4
Plunge one pepper into the boiling water and boil for 1 minute. Remove the pepper from the water with a slotted spoon and place it in the ice water for 30 to 60 seconds.
Step 5
Dry the pepper with a towel and set it upright on a baking sheet. Arrange the peppers so they are not touching one another.
Step 6
Place the peppers inside the freezer. Freeze for 2 to 4 hours or until they are frozen solid.
Step 7
Transfer the frozen peppers to a storage bag. Pack the peppers in the bag loosely so they don't become crushed or broken.
Tip
You can also stuff your peppers with your favorite filling before freezing. Thaw and cook the stuffed peppers as directed in your recipe.
Cut the peppers in half lengthwise before blanching if you prefer smaller stuffed peppers.