Things You'll Need
Household chlorine bleach

Dish soap

Wooden pallet

Portable fan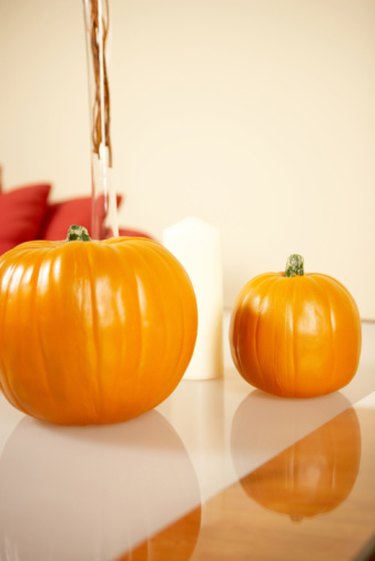 Bright orange pumpkins become readily available at your local grocer each fall, and offer unlimited possibilities to the creative at heart. Traditional carved Halloween jack-o-lanterns are popular seasonal fare for many, but the fruits also lend themselves well to decorating techniques other than carving. While fresh pumpkins are typically cured by the growers prior to resale, you'll need to dry them properly to extend the life of your creations. You can easily prepare your pumpkin yourself to ensure that your decoration will weather the test of time to last through the autumn and beyond.
Step 1
Choose an unblemished pumpkin with a shiny shell that's too hard to puncture with your thumbnail. Press your fingertips firmly into the surface of the pumpkin to check for soft or rotting spots. Pick one with a stem still intact, if possible. A strong, healthy stem is a good indicator of the condition of the fruit and of the plant from which it was picked. The stem should be firm with no signs of leakage around the cut.
Step 2
Add one part household chlorine bleach to 10 parts water. Add a little dish soap and wash the surface of your pumpkin with the solution. Rinse it thoroughly with cool running water and pat dry. This will remove bacteria and other organisms which can cause the fruit to rot prematurely.
Step 3
Set your decorative pumpkins on a wooden pallet in a cool, dry spot out of direct sunlight. Leave plenty of space between them to allow for good air circulation. Store them at 50 to 55 degrees F with a relative humidity level no higher than 50 to 70 percent. Don't allow warm daytime air to enter your storage area.
Step 4
Set up a portable fan in your pumpkin storage area during daytime hours. This will help to keep cool air circulating.
Step 5
Decorate your pumpkins whenever you wish during the drying time, but return them to the storage area when they're not being displayed. Your pumpkins will keep for up to three months.
Warning
Store your decorative pumpkins in an area well away from apples. Ripening apples give off ethylene gas, which will quickly rot other fruits.