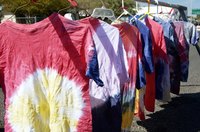 Fabric dyes help artistic and creative people invent their own styles and truly personalize their wardrobes. The dyeing process is actually a complicated chemical process, in which the dyes chemically bond to the miniscule fibers in the clothing. To aid in this process, many dyers use a fixer solution that involves soda ash to make the chemical process faster. If soda ash is unavailable, you can use baking soda to create a fixer solution, but you need to adjust the soda/water ratio and add heat to achieve the same results.
Things You'll Need
Water
Microwave-safe container
Baking soda
Pour one gallon of warm water into a large microwave-safe container.
Add 3 cups of baking soda per gallon of warm water to the container. Stir the mixture well with a wooden spoon to mix in the solution; it may not dissolve, as the water temperature has to be very hot to dissolve baking soda.
Add the garments you wish to dye. Microwave the solution and garments for 10 minutes to increase the temperature and dissolve the baking soda into the garments, creating the same effect that the soda ash would have at room temperature.