Things You'll Need
Laundry detergent

Baking soda

White vinegar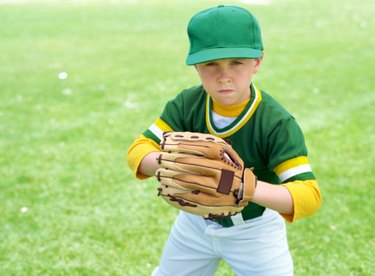 Sports uniforms endure a lot of wear and tear as sweat and body odor transfer to the uniform during game play. To keep the uniforms both looking and smelling clean, it is important to incorporate cleaning elements that also deodorize the uniforms. Luckily, this can be done with natural and nontoxic cleaning ingredients that are probably already on hand in your kitchen cupboard.
Step 1
Turn on the washing machine, using a warm water cycle and large load size so the uniform or uniforms can move freely.
Step 2
Add in a capful of your regular laundry detergent.
Step 3
Pour about 1 cup of baking soda into the water. This will deodorize and boost cleaning power. Also add in 1 cup of white vinegar, which disinfects and deodorizes.
Step 4
Allow the wash cycle to finish and dry the uniforms as you normally would.