Things You'll Need
Dust mop

Sponge mop

Towels

Paper towels

Marble cleaner or car wax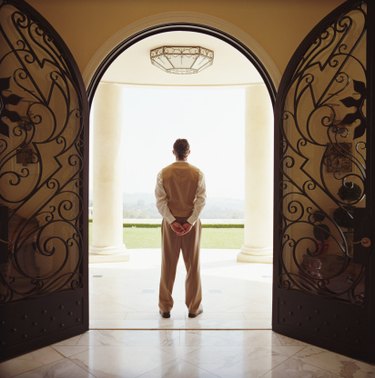 Marble flooring is beautiful but can become dull or scratched just from daily wear and tear. Take care of your marble on a weekly basis to make sure it's clean and kept shining. Never use harsh cleaners on your marble or even natural products, such as vinegar, as these can ruin your marble. Be gentle with your marble floors and they'll remain shining for many years to come.
Step 1
Dust the debris from the marble floor using a dry dust mop to remove all dust and surface particles.
Step 2
Mop the floor using a sponge mop and water only. Make sure the mop isn't soaking wet, but just slightly damp. Mop the entire floor, changing out dirty water in exchange for fresh, as often as possible.
Step 3
Dry the floor by hand using soft cloth towels. Water should not be left on the marble floor for any length of time.
Step 4
Polish the floor by buffing it to a shine with paper towels. If the floor is still not as shiny as you desire, purchase a marble polish that is especially made for marble floors, or you can use car wax to buff the floor to a high shine.