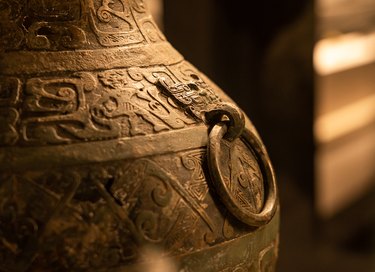 WD-40 is made of a secret formulation of lubricants and anti-corrosion agents. The name means "water displacement, 40th formula," and it was the 40th attempt by chemist Norm Larsen. As the product is a lubricant, many people think of it as a product you use to fix squeaky hinges and loosen stuck hinges. However, you can also use WD-40 to clean bronze and other metals. It also has myriad other uses, including polishing faded plastic and mirrors.
Using WD-40 to Clean Bronze and Metal
WD-40 is an ideal substance to clean metal surfaces around your home, including metal fixtures, decor, doorknobs and jewelry. In order to clean brass with WD-40, start by taking the red plastic tube that is attached to the WD-40 can and inserting it into the spray nozzle. Newer canisters have the straw already attached; you simply need to flip the straw up to spray the product.
Spray some WD-40 on a soft cloth and then move the cloth in a circular motion to polish the brass. This will quickly and easily remove the tarnish. The WD-40 formula also removes rust from your metals.
If the metal has builtup dirt and grime, you may need to clean that first before using the WD-40 to polish the metal. Mix baking soda and vinegar until it forms a paste. When the mixture stops fizzing, apply the paste to the dirty metal surface. The acidic vinegar attacks the grime, but the mixture is not so abrasive that it will scratch or damage your metal. Then, remove the cleaner with a damp cloth and dry the metal. Finish by polishing the metal with WD-40 and a soft cloth.
Polish Plastic With WD-40
WD-40 Multi-Use can also be used to clean and polish worn and faded plastic. However, you should not use WD-40 on polycarbonate, which is often used in eye protection glasses, and clear polystyrene plastic.
This can bring new life to your lawn chairs and plastic parts on your car. Start by spraying off as much mud, dirt and debris as you can and then dry the plastic. Simply spray the WD-40 on the plastic. Then, using a clean, dry rag, scrub the area. The WD-40 will clean and polish the plastic so that it will look completely refreshed. You will especially notice the shine on plastic that has a black finish.
Other Cleaning and Polishing Uses
If you have a bathroom mirror with hard water stains, you can use WD-40 to remove the stains and polish the glass. Simply spray WD-40 on the mirror so that it covers the water spots. Allow the lubricant to work for a few minutes and then wipe it off with a clean, dry rag. Use more WD-40 if needed to fully clean the mirror for a flawless reflection.
You can also use WD-40 and a soft cloth to polish boat rails, seashells, countertop scratches, golf clubs, fishing lures, mother-of-pearl accessories and bronze grave markers. It also has automotive uses to bring a shine to car tires, motorcycle finishes, classic car finishes, chrome and pickup truck bed liners.