Things You'll Need
Roasting pan

Foil (optional)

Food thermometer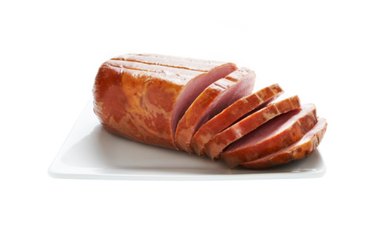 John Morrell makes a variety of meat products, including smoked hams. The hams are fully cooked and ready-to-eat. Depending on your preference, you can choose bone-in, boneless, spriral-cut or sliced hams. Serve the convenient smoked hams as part of an elegant holiday day or casual weeknight meal. You can use the leftovers in soups such as split pea, sliced on sandwiches or chopped in salads. Since the ham is already cooked, you simply need to heat it before eating.
Step 1
Remove the packaging from the smoked ham. Preheat the oven to 325 degrees Fahrenheit.
Step 2
Set the ham in a roasting pan. Place a 1/2 ham into the pan flat-side down.
Step 3
Cover the roasting pan with a lid or a large piece of foil; wrap the foil around the rim of the pan to create a secure seal.
Step 4
Cook the ham for 15 minutes per lb. Pour an included glaze mix in a saucepan and add 3 tbsp. of water. Bring the glaze to a boil over medium heat.
Step 5
Remove the ham from the oven when its internal temperature reaches 140 degrees Fahrenheit when checked with a food thermometer. Take a ham that includes a glaze packet out of the oven 10 minutes before it is done. Pour the prepared glaze evenly over the ham and cook the meat for another 10 minutes at 400 degrees Fahrenheit.