Choosing the right shape, color and size of rug for your space can be tricky. Take matters into your own hands and create a rug that is not only soft and cozy but can also be custom-made to match your decor. Fun and whimsical pom-poms bring beautiful texture and warmth to your space, and they serve as a unique alternative to a sheepskin rug.
Things You'll Need
Yarn

Pom-pom maker

Scissors

Non-skid rug pad
Tip
There are several ways to make a pom-pom. You can refer to this tutorial for an alternative method, but a pom-pom maker offers the fastest method. The large one makes pom-poms with diameters of 2½ inches (65 mm) and 3 3/8 inches (85 mm). The small one makes pom-poms with diameters of 1 3/8 inches (35 mm) and 1 5/8 inches (45 mm). The actual size of the pom-poms will vary based on the thickness of yarn and amount of times the yarn is wrapped around the maker.
Step 1
Wind the yarn around each arch, starting from the left side and moving towards the right. Make sure both arches are entirely covered with yarn.
Step 2
Wrap the yarn around the pom-pom maker until the surface of the maker is covered, and then close it tightly.
Step 3
Place scissors in the gap between the arches and carefully cut through the yarn.
Step 4
Cut a long piece of yarn and thread it between the arches. Tie it into a tight double knot. Don't clip off the long tails of yarn — they will be used to tie the pom-pom onto the under-padding.
Tip
Be sure to tie your knots tightly to prevent the pom-pom from unraveling.
Step 5
Separate the top and bottom of the pom-pom maker to release the pom-pom. Fluff and shape your pom-pom to its desired shape.
Step 6
Trim and shape any longer pieces of yarn from the pom-pom, but again leave the long tails intact.
Step 7
Make as many pom-poms as needed to fit your desired rug size. This particular rug measures 3 feet by 1½ feet and required 12 skeins of yarn, yielding approximately 120 pom-poms.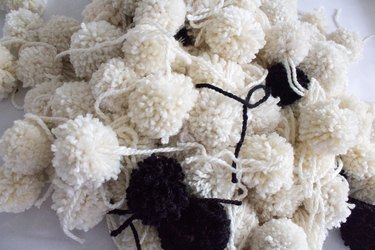 Step 8
Thread the long tails of the pom-pom through the holes of the non-skid rug pad.
Step 9
Tie the yarn into a secure double knot and trim the ends.
Step 10
Continue threading pom-poms through the rug pad and tying each securely in place. For this rug, the pom-poms were tied in an organic and irregular shape to add some interest, but you can elect to tie them in a more uniform fashion to create a perfectly rectangular or round rug.
Step 11
Trim any excess padding with scissors.
These pom-pom rugs can be draped over a chair, at the end of your bed or even used as a wall hanging. There are no set rules when it comes to creating your own unique space!