Things You'll Need
Plastic egg dyeing cups

Water

PAAS egg dye

Vinegar

Lemon juice

Hard-boiled eggs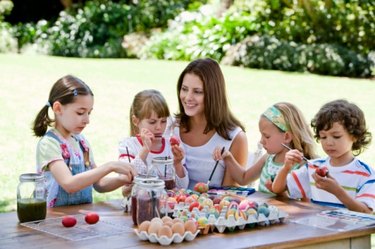 PAAS Easter egg dye has been an Easter tradition for more than 125 years. The dye is a mix of vinegar and coloring that ensures brightly colored eggs. Dyeing your Easter eggs with PAAS dye is so simple that even kids can get in on the act. According to the PAAS website, more than 180 million eggs a year are dyed with PAAS dye.
Step 1
Fill the plastic egg dye cups with 1 cup of water each.
Step 2
Place one colored dye tablet into each container. For bright, vivid colored eggs, add 3 tbsp. of vinegar to each dye container. If you want your eggs to be standard colors, use lemon juice instead of vinegar.
Step 3
Put an egg into the wire egg dipper, and gently place it into a dye container. Leave the egg in the dye until the egg is the desired color. The color of the egg will be determined by how long you leave it in the dye container. For lighter eggs, take it out sooner.
Step 4
Place the eggs in the holes in the kit tray to allow them to dry before handling them.