Things You'll Need
Card stock paper

Ruler

Pencil

Scissors

Masking tape

Acrylic paint

Paintbrush

Markers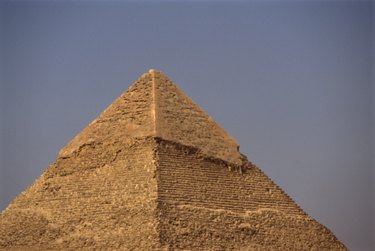 Pyramids are ancient building structures that are often best known for their appearance in Ancient Egypt. When you are teaching kids about Egypt, you can make your instruction more effective if you offer the children a craft to make that is related to the material. For example, children can construct a basic pyramid out of card stock paper that they can decorate after building. You can demonstrate how to make a pyramid by following a few guidelines that will ensure the pyramid is proportionate.
Step 1
Draw out a square onto a sheet of card stock that measures 6 inches on all sides. Use a ruler to achieve accurate measurements.
Step 2
Draw out a triangle connected onto each side of the square. Measure out and draw triangles that are equilateral, with each side measuring 6 inches.
Step 3
Cut out the entire form with scissors. The resulting shape will resemble a star with four points.
Step 4
Fold each triangle upward at the edge dividing it from the square. Press the edges to make them crisp. This will transform the shape into a pyramid form.
Step 5
Tape the corners of the pyramid to secure the triangular sides into place. Use masking tape, which can be painted or drawn over without the paint or markers rubbing off.
Step 6
Decorate the pyramid using acrylic paint or markers. Children can make the pyramids as colorful as they prefer or they can paint the pyramids a solid yellow color to resemble the actual Egyptian pyramids.