Things You'll Need
Spray water bottle

Plastic trash bag

Bucket

Evergreen sealer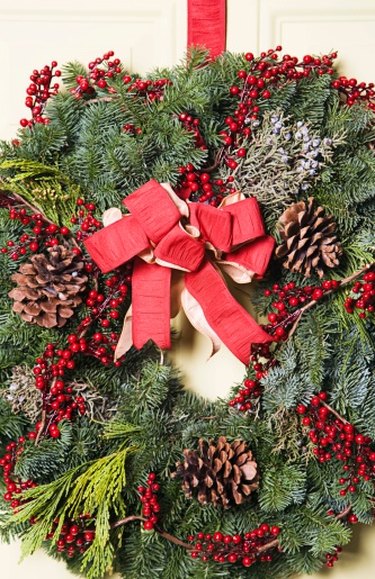 During the holiday season, it's customary to hang a Christmas wreath on your front door. Wreaths, consisting of fresh evergreen tree branches shaped to form a circle, are typically decorated with ornaments, bows, berries and pine cones. Due to the elements of winter however, wreathes often end up getting dried out and look unappealing before the season ends. Selecting the freshest branches and prepping the wreath ahead of time will help it stay fresh and vibrant-looking all season long.
Step 1
Select the freshest branches possible. If you're making your own wreath, cut the branches from the evergreen tree a month or so before December as the cold winter winds dry out the greenery. If you're buying the wreath from the store, buy it as early as possible.
Step 2
Spray the wreath leaves or the ready-made wreath with water thoroughly and place in a plastic trash bag. Keep in a cold room, such as a garage, until you are ready to put up the wreath.
Step 3
Cut the stems and soak the branches in a large bucket of warm water for several hours the day before creating the wreath. For a ready-made wreath, soak it in warm water as well. Drain well.
Step 4
Spray the wreath leaves with a sealer that is used to protect evergreen plants and trees from the winter elements. Place the treated branches in the sun to allow the sealer to set.
Step 5
Hang the wreath in a shady place that does not receive a lot of sun, as the sun will eventually dry it out.
Tip
If you're using fresh berries for your wreath, spray the berries with florist's glaze or acrylic floor wax. This makes the berries shiny and vibrant looking.
Dip pine cones and fruits such as apples for the wreath in hot paraffin wax to preserve them.