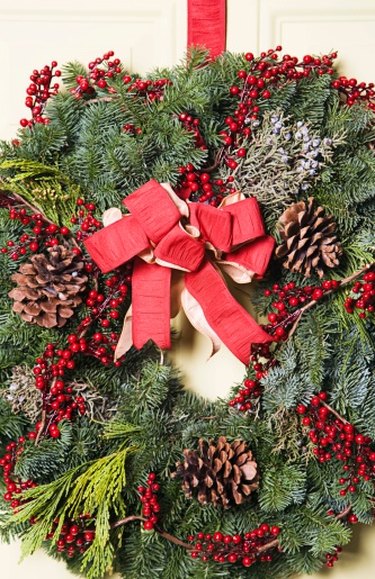 A fresh, fragrant Christmas wreath adorning your door makes your home look festive and welcoming. A brittle, browning wreath on the door makes it look like the Grinch was in charge of decorating. Of course, no wreath made of fresh branches will last forever. Even if you start with freshly cut branches, there's a timer on how long your fresh door decor will last. Taking proper care of your wreath can keep it in display-worthy shape for as long as a few months.
Different types of greenery can require different types of care. For example, a wreath made of fresh magnolia leaves can be beautiful and long-lasting once it dries, so these wreaths may not need water. However, Christmas wreaths made with cedar, pine, spruce or fir branches – usually considered among the best evergreens for wreaths – can generally all be handled in the same way. That's true even if a mix has been used in one wreath.
Start With Well-Watered Greenery
Just like flowers, tree branches start drying out as soon as they're cut. The greenery in a premade Christmas wreath could have been cut from a tree several days before you bring it home. This is why it's a good idea to give an evergreen wreath a good shake before buying it. If a shower of needles fall to the floor, it's a good indication that the branches are already drying out, and you should pick a different wreath.
If possible, soak an evergreen wreath in water for a few hours before hanging it. (You can do this with a wreath that uses a metal or plastic ring as its base but don't soak a wreath that has a foam ring base or includes other non-greenery elements.) Trim the tips of any stems that are exposed along the back of the wreath to open up dry ends and let in more water. Fill a large, plastic storage box or utility sink with an inch or two of water and let the wreath soak overnight with the back side down so the cut ends of the branches are submerged. Pat the wreath dry with paper towels and let it air dry completely before hanging it.
Water Christmas Wreaths Every Other Day
Even as people regularly water their fresh Christmas trees, they tend to forget that fresh wreaths need moisture too. Take down the wreath from where it's hanging to spritz the cut ends with water every other day or so. If the wreath includes any non-greenery decorative elements, like a fabric bow or flocked pinecones, carefully shield them with cardboard so they don't get wet.
Protect Wreaths From Heat
Direct sunlight and heat speed up a fresh wreath's browning process. There's not much you can do about that if you bought a wreath for your front door, and the door gets direct sunlight all day long, but when possible, protect a fresh wreath from extreme conditions. In a desert climate, bring a wreath indoors for a few hours and give it a quick mist of water during the hottest part of the day. Keep indoor wreaths away from heating vents to keep them from being hit by a blast of dry air every time the heat kicks on.
Consider Protective Sprays
It's probably not something your grandma ever did with her Christmas decor, but treating a fresh greenery wreath with a protective spray product could extend its life span by days or weeks. Look for an anti-transpirant spray, which is designed to create a thin coating on plant life to hold in water. This kind of product is often used to keep plants from wilting in the height of summer. Follow package directions to treat your wreath.