Things You'll Need
Stair stringer

Pencil

Adjustable stair stringer hanger

Hammer drill

5/32-inch masonry bit

Bristled-wire pipe brush or compressed air

3/16-inch-diameter masonry screw, 1-½ inches long

Electric screw gun

10d, 16d or 1-½ inch-long screw connectors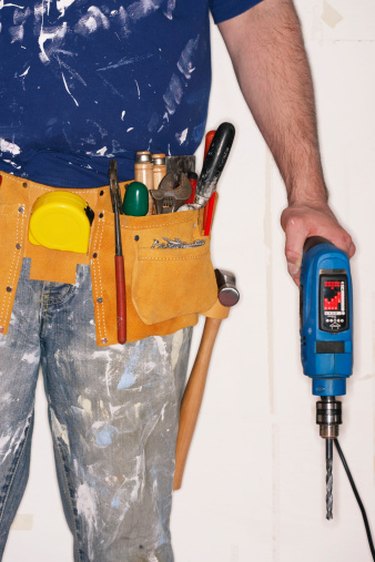 Several building manufacturers make hangers that you can use to fasten stair stringers to concrete. These hangers are adjustable to fit most types of wood structured stairs. The hangers are fitted to the back edge of the stringer and then bent to contour to the bottom edge. You'll use masonry screws first to secure the hanger to the concrete structure. You can then slide a stair stringer in place and fasten it, using nails or screw fasteners. You don't need to install ledger board before the hangers, which will save you time and money during the project.
Step 1
Place the stringer on the concrete in the location where it will be secured. Trace the outside edge of the stringer with a pencil to leave marks on the concrete.
Step 2
Hold the adjustable hanger to the back edge of the stair stringer with the side tabs resting against the inside face. Flush the top edge of the adjustable hanger to the top of the stringer and bend the hanger so it contours to the bottom of the stringer.
Step 3
Remove the hanger and hold it onto the concrete. Align the top and side edges of the adjustable hanger with the traced outline of the stringer. Mark each hole with a pencil to indicate where to drill holes for the masonry screws.
Step 4
Drill 2-inch-deep holes into the very top and bottom marks, using a hammer drill equipped with a 5/32-inch-diameter masonry bit. Clean out the holes, using a bristled-wire pipe brush or compressed air.
Step 5
Hold the adjustable hanger up to the concrete and align it with the holes. Screw 1-½-inch-long by 3/16-inch-diameter masonry screws into the two holes, using an electric screw gun to secure the hanger in place. Place the stringer against the adjustable hanger to ensure it is secured in the right place.
Step 6
Remove the stringer and drill out the remaining 2-inch-deep holes, using the hammer drill and 5/32-inch-diameter bit. Insert a 3/16-inch-diameter by 1-½-inch-long masonry screw into each hole and tighten them with the electric screw gun.
Step 7
Place the stringer against the adjustable hanger that is screwed into the concrete. Fasten the adjustable hanger to the stair stringer's bottom face, using 10d, 16d or 1-1/2-inch screw connectors; one fastener should be placed through each predrilled hole at the bottom and side tabs of the adjustable hanger.
Step 8
Repeat Steps 1 through 7 for each stringer.
Warning
Wear safety glasses and a dust mask to prevent injury from flying debris and dust inhalation.