Things You'll Need
Pencil

Stud finder

Measuring tape

Hacksaw

Shower rod

Drill

Anchors (optional)

Rings and screws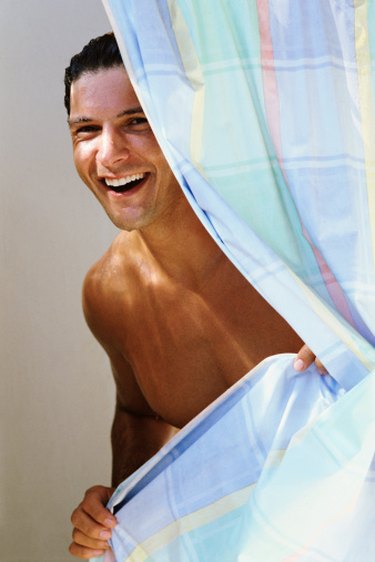 If your bathtub has a shower head, you must prevent the sprayed water from spilling all over your bathroom. Many people use shower curtains with tension rods that are simply tightened in place. These rods sometimes slip, however, and can damage the walls that they are pressing into. Permanent shower curtain rods are easy to install and look much better than tension rods. The parts are often sold in kits, requiring you to simply provide the tools.
Step 1
Mark an "X" 2 inches above the top of the bathtub unit on either side. These marks should be centered above the outer wall of the bathtub. They are the positions where the shower rod will attach to the walls.
Step 2
Use a stud finder to determine if there are wall studs located behind your marks.
Step 3
Measure the space that the shower rod will have to stretch across from "X" to "X."
Step 4
Cut the shower rod 1/4-inch shorter than the measured distance with a hacksaw.
Step 5
Hold a shower rod mounting ring over one "X" and mark the screw positions with a pencil.
Step 6
Drill pilot holes for the ring's screws into the wall. If there is no stud behind the "X," drill slightly larger holes and insert drywall anchors.
Step 7
Screw the ring into the pilot holes or anchors with the included screws.
Step 8
Mark and drill the holes for the second ring.
Step 9
Slip the second ring onto the shower rod.
Step 10
Insert the shower rod into the first ring, and then slide the second ring against the wall and screw it into the pilot holes or anchors.