Things You'll Need
Pool ladder mounting flanges

Pool ladder

Bubble level

Electric screw gun

Mason drill

Socket wrench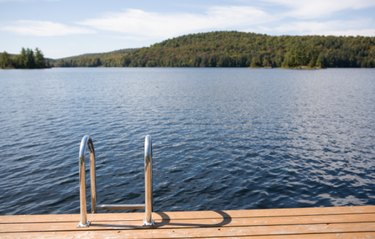 Use metal flanges to attach a pool ladder to the wood or concrete deck of your pool. The metal flanges allow pool owners to install a ladder wherever they desire. Screws hold the flanges to the deck and make installation and removal of the ladder easy. The legs of the ladder slide down into the flange and a bolt on the side of the flange allows for tightening. Back the bolt off and you can pull the ladder legs out.
Step 1
Place the flanges on the deck where you want them to go.
Step 2
Slide the legs of the top end of the ladder into the flange cups.
Step 3
Hang the bottom end of the ladder down into the pool and allow the rubber stops to rest against the pool side.
Step 4
Place a bubble level on top of the first step of the ladder. Turn it perpendicular to the direction of the step. Move the ladder toward or away from the pool until the ladder steps are level. The bubble inside the level should be centered.
Step 5
Sink the flange bolts into the deck. Use an electric screw gun if the deck is made of wood. Drill holes with a mason drill and ratchet in bolts with a socket wrench if the deck is made of concrete.
Step 6
Tighten the fastening bolts on the sides of the flange cups to keep the ladder from moving around during use. Use a socket wrench to tighten these.
Tip
Put Liquid Nails in the concrete holes before screwing in the bolts. This adhesive will provide added strength.