Things You'll Need
Screwdrivers

Plastic bags and tape

Tarps

Pounded iron spray paint

Stone textured spray paint

Black spray paint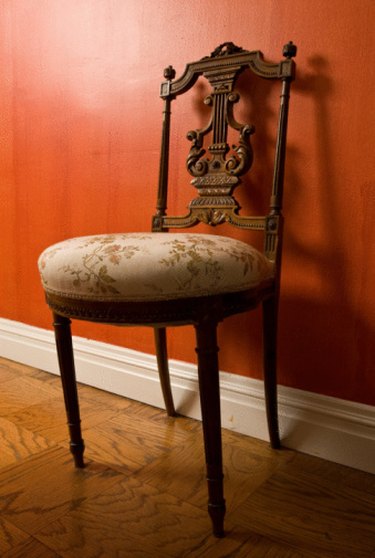 Wrought iron furniture counts as a mainstay in many decorating styles like Tuscan decorating. However, not everyone can afford this type of furniture. If you find yourself in this quandary, consider converting a few of your regular chairs into faux wrought iron chairs. You'll paint them using several types of paint, and once done, they'll have the look of wrought iron without the cumbersome weight to go with this metal furniture mainstay.
Step 1
Remove any upholstered parts like the seat. If you're working with dining room or kitchen chairs, the process may be a bit easier, since many times the only upholstered part of the chair is the seat itself. Simply remove the seat by removing the screws on the underside before you begin the painting process. If more of the chair is covered with upholstery or it's not possible to remove the seat, cover the upholstery well. Use a pliable material like plastic garbage bags and tape the plastic down tight, leaving the wooden parts that you want to paint exposed.
Step 2
Cover your work area with a tarp. You may need quite a large tarp or several of them if you intend to do several chairs. This will speed the process up, because you won't be waiting for the paint to dry on one chair before you start another one.
Step 3
Spray on the pounded iron spray paint. Several brands exist on the market, and some do come in larger gallon buckets. However, several cans of spray paint will probably work better than one large container, because the spray paint won't leave brush marks in the paint. This type of paint will create the texture of the wrought iron. Read the instructions on the can to find out how much paint you'll need for this project. Buy that amount for each of the steps involving paint.
Step 4
Allow the pounded iron spray paint to dry. Spray on several coats of the pounded iron spray paint. You're going to be painting over it, because it typically only comes in colors like gray or copper, and you'll want to have the final product be black like wrought iron.
Step 5
Add several layers of stone textured paint to the chair. Look for paint that has a sandstone finish. Allow the paint to dry according to the manufacturer's instructions.
Step 6
Spray paint the chairs black. Apply several coats. Make sure that the black is a flat black and not a glossy finish, since you're trying to replicate the look of wrought iron, which typically features a dull finish.
Step 7
Allow the black paint to dry according to can instructions and then replace the seats or remove the protective covering from the upholstered portions.
Warning
When spray painting, work outdoors or in a very well ventilated area, and wear a respirator to avoid breathing in fumes.