Things You'll Need
Scouring powder or paste

600-grit wet/dry sandpaper

Tack cloth

Two-part epoxy

Chopstick or small brush

Newspaper

Painter's tape

Enamel-based spray paint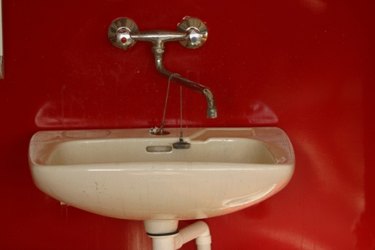 Kitchen and bathroom sinks, as well as some appliances, are metal covered with enamel. The enamel process adds durability and beauty to a common metal base. Yet, like most things, an enamel sink will age causing peeling, cracking and chipping. While you could send the sink to a professional for repair, you can also spend a DIY weekend refinishing the surface yourself and thereby saving money.
Step 1
Wash the sink with scouring powder or paste to remove residue from the enamel. Rinse well and allow the sink to dry completely.
Step 2
Sand the peeling, cracked or chipped areas with 600-grit wet/dry sandpaper to remove loose enamel.
Step 3
Rinse the sink to remove any pieces of enamel and dust from the sanding. Again, allow the sink to dry completely.
Step 4
Mix the two-part epoxy as directed on the package label.
Step 5
Apply the epoxy to the areas where the enamel is chipped, cracked or peeled away from the metal. Use the tip of a chopstick or a small paint brush to apply the epoxy, spreading it out until it fills the problem area.
Step 6
Allow the epoxy to dry for at least 24 hours. Sand lightly to even the epoxy with the surrounding area.
Step 7
Spread newspaper around the outside of the sink, securing the paper in place with painter's tape. Wrap paper and painter's tape around the faucets and handles of the sink.
Step 8
Apply a coat of enamel-based spray paint to the sink. Allow the paint to dry for three to four hours and spray a second coat. Allow the sink to dry for 12 hours or overnight.
Tip
Apply small amounts of epoxy to an area at a time. Smooth it out and continue to apply until the spot is filled before moving on to the next problem area.
Kits are available at hardware stores in a wide variety of colors to match your existing sink if the repairs are small.
Spraying the sink with an enamel-based paint will restore the luster of the finish.
Avoid scrubbing the sink with any type of abrasive cleaner for at least a week.