Things You'll Need
Screwdriver

New swivel clips

Hammer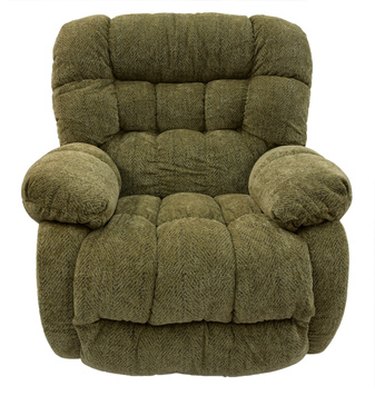 You don't have to be a furniture specialist to repair your swivel rocker recliner. One of the best features of a swivel rocker is it can be used as a recliner when raised. If you are having problems with your swivel rocker recliner, there are several things that you can do to repair it, instead of replacing it.
Step 1
Buy new swivel clips. Purchase the clips from the manufacturer or from a local hardware or home improvement store.
Step 2
Turn the chair over so you have access to the swivel on the bottom side of the chair. Use a screwdriver or a wrench to remove the screws or bolts holding the base onto the swivel.
Step 3
Check the swivel's clips to see if they are worn or broken. If the chair doesn't swivel or move, the clips are probably broken. Use your screwdriver to remove the clips from the swivel.
Step 4
Install your new clips onto the swivel. Twist the clips to get them into place on the grooves to the swivel's sides.
Step 5
Use a hammer to secure the clips in place on the swivel's grooves. Replace the base and the screws or bolts, secure them to the chair.
Step 6
Turn the chair over and sit in it. Swivel around and recline to test the clips.