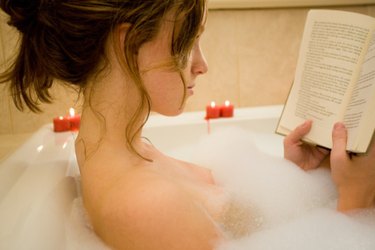 Delta manufactures a number of pop-up drain assemblies, but the basic design of each assembly is the same. Attached to the back of the assembly's cover plate is a linkage. Attached to the bottom of the linkage is a cylindrical-shaped drain stopper. When the trip lever is engaged, the tub fills with water because the stopper has closed off the drain pipe. It is for this reason that a broken stopper will cause the tub to slowly lose water. Replacement Delta stoppers are available, but the existing stopper must first be removed.
Step 1
Actuate the pop-up drain's trip lever to lift the stopper out of the drain pipe.
Step 2
Remove the screws that secure the cover plate assembly to the bathtub's wall, using the screwdriver.
Step 3
Pull the cover plate assembly out of the tub. The linkage and drain stopper will slide out of the opening as the plate is removed.
Step 4
Pull the pin securing the stopper to the end of the linkage out of the stopper with pliers. This will release the drain stopper.