Things You'll Need
Marble powder

Powdered resin

Bucket

Paint stick

Mold

Rock chisels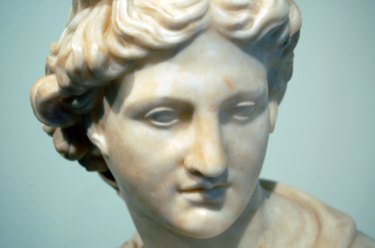 Marble is a hard type of stone that can be particularly challenging to carve and sculpt. Instead of creating a sculpture, such as a statue, from actual marble, you can make a bonded marble statue created from marble powder and powdered resin that will look and feel like actual marble. The bonded marble statue can be carved and chiseled more quickly than a statue carved out of solid marble.
Step 1
Combine marble powder and powdered resin into a bucket in the proportions of two parts marble powder to one part powdered resin. Mix well.
Step 2
Pour one part water into the mixture. The mixture should be runny and will resemble thin pudding. Add in a little more water if the mixture is too thick. Stir well with a paint stirrer.
Step 3
Pour the marble mixture into the mold you are casting. Allow the mold to set for at least 6 hours.
Step 4
Take the bonded marble statue out of the mold. Chisel the bonded marble with rock chisels to refine the edges and add details.