Things You'll Need
Painting supplies

Paint swatches

Color wheel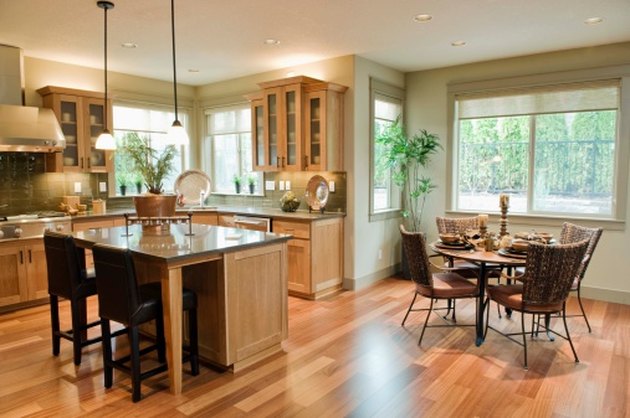 Open concept floor plans are popular in modern home design. They result in wide open spaces where one living space flows into the next. An open concept kitchen and living room area is often referred to as a great room, and choosing paint colors for it can be a challenge. With the myriad of color choices available to you, deciding which ones will work best with your design style can be mind boggling. But before you settle on that old stand by, white, take the time to learn about choosing color.
Step 1
Unite the kitchen and living room. Paint the area with one color. Choose a neutral color to unite the rooms without overwhelming the furnishings and architectural elements.
Step 2
Apply shades of the same color. Choose a main color. Consult paint swatches for two lighter shades of the same color. Paint the one area with the main color. Use the middle color in the other space. Highlight architectural features with the lightest shade.
Step 3
Select three complementary colors. Look at a color wheel to see the colors that are across from each other. These are complementary colors and not shades of the same color. One complementary color will be a warm color like orange. The color opposite it will be a cool color like blue. Choose lighter shades of complementary colors for a quiet mood and deeper shades for more impact.
Step 4
Consider other colors in the room. Look at the colors of the kitchen cabinets, the moldings and architectural features like fireplace mantels and columns. Take into consideration upholstery and furniture colors, and choose colors that complement rather than clash with them.
Step 5
Choose colors that go with your decorating style. For example, you might opt for a gray-blue, colonial red and mustard color scheme for a country space, where as a great room with a Tuscan flair calls for earth tones like golds and muted greens.
Step 6
Highlight window trim or architectural features like columns with a bright color such as primary blue. Paint the adjoining wall a light shade of orange.
Step 7
Tone down shades of one color or two complementary colors by adding white to your color scheme. Use it on things like wainscoting and finish off the wall in one of the other colors. Paint the ceiling and window and door trim white.
Tip
Human eyes can distinguish 7 million separate colors. On a color wheel there are three primary colors: red, blue and yellow. Orange, green and purple are secondary colors, produced by mixing the primary colors. When the secondary colors are mixed, they produce tertiary colors.