Things You'll Need
Muriatic etching solution

Sponge

Masonry primer

3-inch sash brush

Heavy-nap roller

Elastomeric latex paint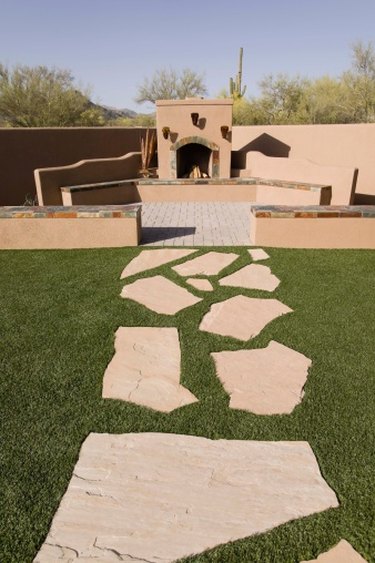 Flagstone is a common medium for stone walkways, though it can also be for siding, fountains and other outdoor home features. Flagstone comes in a number of natural colors, making it possible to create checkered or staggered patterns with the stonework. Natural flagstone colors are still limited, however, to earthy browns, muted reds, blues and grays. If you want to paint your flagstone a different color, you'll need the right type of primer and paint.
Step 1
Wash the flagstone surface with a muriatic etching solution and a sponge.
Step 2
Rinse off the surface with a garden hose after washing. Wait for the surface to dry before continuing.
Step 3
Prime the flagstone with masonry primer. Masonry primers are available at most home improvement stores. Apply the primer using a 3-inch sash brush or a heavy-nap roller.
Step 4
Paint the flagstone with elastomeric latex paint. Elastomeric paints are made with special resins that fill small cracks and gaps in stonework for a longer-lasting finish. Use a clean 3-inch sash brush or heavy-nap roller. Let the paint dry for a full 24 hours before using the surface.