Things You'll Need
Inkjet printer

Paper or fabric

Acrylic gel medium

Foam brush

Spoon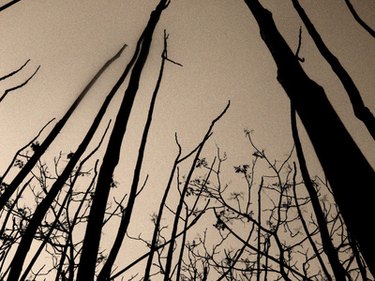 Adding images or text to your paper or fabric art projects will add a unique touch, especially if you use images of your own photos. With just an inkjet printer, a sheet of transparency film and some gel medium, you can create images that range from solid and full-color to those that appear hazy and ethereal. Experimentation is the key to success in this method of image transfer.
Step 1
Print out your image or text onto transparency film, on the rough side. It is essential that you use an inkjet printer. Use the mirror printing setting, as your transferred image will be reversed. This is especially important for any text that you use.
Step 2
Lay the paper or fabric that you are transferring the image to on your work surface. Cover the fabric or paper with a thin layer of gel medium, using the foam brush. Brush in just one direction and apply the gel evenly.
Step 3
Place the transparency film, ink side down, in the gel. Smooth the transparency with your fingers to remove any air bubbles. Rub the transparency with the back of a spoon, gently and firmly, to transfer the ink. Be careful not to move the transparency back and forth in the gel.
Step 4
Lift the corner of the transparency off the fabric or paper and check that the ink has transferred. If it has not, lay the transparency down and rub with the spoon again.
Step 5
Remove the transparency from the fabric or paper and let the gel dry.
Tip
For a more ethereal image, remove the transparency before all the ink has transferred.
Warning
Be aware of any copyright restrictions on the text and images that you use.