Things You'll Need
Plastic dropcloth

Spray bottle

Paint stripper

Spatula

Latex-based primer or fill

Palm sander

Cloth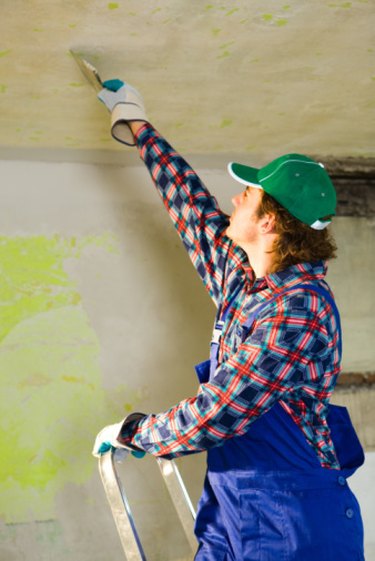 Venetian plaster is a painting treatment used to add interest and texture to ordinary walls. While it is a decorative look that can hide imperfections, it is certainly not an aesthetic that will please everyone. If you have a wall with venetian plaster or a similar textured faux treatment, you may want to smooth it away to have ordinary paint on your wall. This is not an easy task and it requires plenty of patience, but it is possible to achieve the smooth, even look you are hoping for.
Step 1
Remove furniture from the room. Lay down a plastic dropcloth on the floor surrounding the plaster wall. Removing plaster is a very messy process that involves paint, water and chemical cleaners. To best protect your floors, reduce the amount of exposure to moisture and staining agents with plastic.
Step 2
Fill a spray bottle with paint stripper. Choose a stripper designed to remove only the surface paint or two layers of paint at most. Some strippers are designed to remove up to 10 layers of paint and this could damage your plaster. Spray an inconspicuous area of your wall to test the effect before scraping. Work in small patches as you move along the surface of the wall. Open up windows to keep the room as ventilated as possible if using a chemical paint stripper.
Step 3
Scrape away the wet plaster with a spatula. Spray with water as you go along to help in the removal. This is the most time consuming part of the process, but it should be done with care so as not to create deep gouges in the drywall or plaster. Work on one area at a time, scraping each layer of texture away before moving to the next area.
Step 4
Smooth the wall before repainting. Any dips or gouges created in the surface of the wall should be repaired. Spread a latex-based primer or fill over the surface of the wall in damaged areas, smoothing in place with a spatula. Once the primer or fill dries, sand it smooth with a palm sander. Wipe up any dust created by sanding before continuing.
Tip
Wear protective eyewear and masks when using chemical paint strippers.