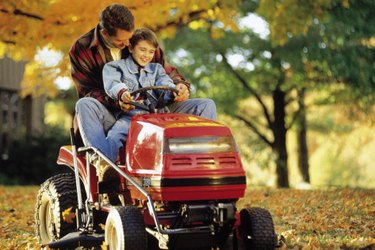 A 17 to 19.5 horsepower Briggs & Stratton Gold OHV engine powers the Sears Craftsman LT 2000 riding mower. Craftsman boasts that it features a 42-inch precision cutting mowing deck and a six-speed transaxle transmission, as well as a handy cup holder. The mower comes from Craftsman with a full warranty for two years and a five-year warranty on the frame and front axle. If problems arise after the warranty expires or the operator doesn't wish to bother with contacting Craftsman right away, there are certain steps to try first to fix the most common issues.
Step 1
Make sure the fuel tank is full if the mower won't start. Other possible culprits include improper engine choking, a flooded engine that needs a few minutes, a bad spark plug or a dirty air or fuel filter. If there's water in the fuel system, empty the tank and the carburetor, refill with fresh gasoline and replace the fuel filter. Lastly, ensure all wiring connections and wires are intact or adjust the carburetor, according to the owner's manual.
Step 2
Repeat the previous steps if the engine is hard to start, in addition to a few other tips. Recharge or replace a weak or dead battery, respectively. Also, if the motor has not been run for a long time and the fuel is stale or dirty, empty the tank and replace it with fresh gasoline.
Step 3
Be sure to depress the clutch/brake pedal if the engine will not turn over when trying to start. Also, disengage the attachment clutch, recharge or replace a week or dead battery, replace a blown fuse or clean corroded battery terminals. Check and replace a faulty ignition switch or faulty solenoid or starter. All these steps also pertain to an engine that clicks but doesn't start.
Step 4
Slow down or raise the cutting height if the engine is losing power from being overworked. Many other causes could be behind loss of engine power, including a throttle in "choke" position, a build-up of grass and debris under the mower, a dirty air or fuel filter, low oil level, a dirty or fouled spark plug or water in the fuel. Also check to see if the spark plug wire is loose or if the muffler is dirty or clogged.
Step 5
Replace a mower blade or tighten its bolt if excessive vibration is due to a worn, bent or loose blade. Also replace a blade mandrel if it's bent. Any loose or damaged parts can also cause excessive vibration, so tighten them down or replace them appropriately.
Step 6
Replace a worn or bent blade or tighten the bolt on a loose blade; in addition to excessive vibration, it may also cause a poor, uneven cut. Other reasons could be an unlevel mower deck, a buildup of grass and other debris under the deck or a bent blade mandrel in need of replacement.
Step 7
Remove any obstructions in the clutch mechanism if the mower blades won't rotate. Check the drive belt for wear or damage and replace it as necessary. A frozen idler pulley or frozen blade mandrel will also require replacement to get the blades spinning again.
Step 8
Placing the throttle in the "fast" position will aid with poor grass discharge. Also try the following steps: shift to a slower groundspeed, don't mow wet grass, level the mower, properly inflate the tires, sharpen or replace the blade, clean out underside grass and debris buildup and replace a worn mower drive belt. Finally, ensure the proper blades are correctly installed.
Step 9
Replace the battery if it's gone bad and won't charge. Also check and clean all wiring connections. Lastly, replace a faulty regulator or alternator.
Step 10
Ensure the engine throttle position is "slow" for 30 seconds before stopping the mower in order to prevent engine backfire.