Things You'll Need
Tape measure

Scissors

Iron

Pins

Thread

Heavy needle

Sewing machine

Curtain rings with clips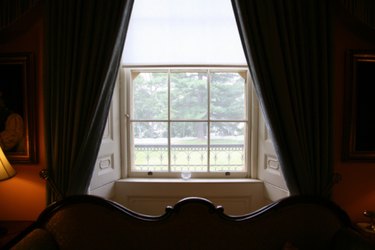 While interior decorators generally use upholstery fabrics for covering couch cushions and pillows, it can also be an appropriate material for drapes and other window treatments. Valued for their heavy weight and durability, upholstery fabrics come in a wide range of weights and finishes. Medium-weight velvet curtains drape languorously, while substantial brocades are stiff and formal. Experiment with different upholstery fabrics until you find the perfect material for making your own curtains.
Step 1
Measure the width of the window. Your panel should be wide enough to cover the window while having some excess fabric to form gentle folds. If the width of the bolt of fabric is somewhat close to your desired width, do not trim off the excess fabric.
Step 2
Measure the distance from the curtain rod to the floor. Heavy curtains are usually about floor length. Keep in mind that the panels will hang from rings, slightly below the curtain rod. Cut the fabric to the desired length, remembering to add extra for top and bottom hems.
Step 3
Warm up an iron. Adjust the setting to correspond to the type of upholstery fabric you are using. Be especially careful not to burn or melt delicate or synthetic fabrics.
Step 4
Fold back the edges of the panel about half an inch. Press them in place with the iron. Fold them over again if the edge of the fabric is fraying. Place a straight pin approximately every 6 inches along the edge of the hem. The pins should be perpendicular to the edge of the panel.
Step 5
Select a thread color that will blend with the dominant color in the upholstery fabric. Thread a sewing machine according to the manufacturer's directions.
Step 6
Replace a regular needle with a heavier upholstery needle. Use a needle that is appropriate for the fabric.
Step 7
Sew a straight stitch along the edges of the curtain panel. Stop to remove the pins from the section that you are about to sew.
Step 8
Trim off any loose threads. Iron the panel to remove any wrinkles.
Step 9
Clip curtain rings along the top of the panel. Place the rings at even intervals. Adjust the spacing of the rings after seeing how the curtains hang from the rod, in order to provide either more or less draping.