Things You'll Need
Pocket boring machine

Oak hardwood, 3/4-by-3-by-12 inches

Cordless drill

Phillips tip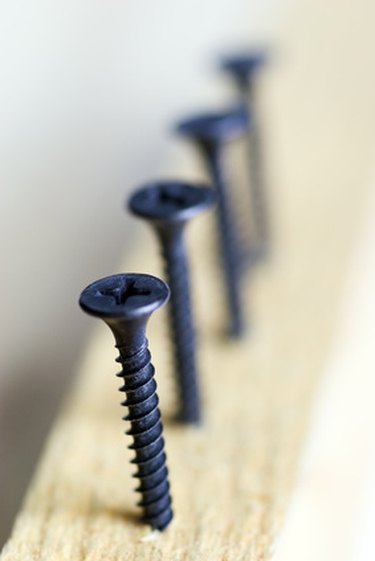 Pocket screws are used with a boring machine that drills holes slanting horizontally through the face of wood. The "pocket" is the hole where the screw head fits. Normally, pocket screws have a small head to fit down inside the hole, but you can use drywall screws if you take a minute to size the end of the hole with a drill. You can adapt any drywall screw to be used as a pocket screw.
Step 1
Drill the hole normally in the wood with a pocket boring drill.
Step 2
Place a Phillips head tip on a cordless drill.
Step 3
Insert the Phillips tip into the pocket and turn on the drill. As the drill is spinning turn the handle of the drill in a circular motion, angling the tip inside the pocket as you bore the pocket out bigger.
Step 4
Pull the drill out. Insert the drywall screw. Screw the drywall screw down as far as it will go into the hole.
Step 5
Measure the length of the screw sticking out of the pocket. If it it is any less than 1/2 inch, remove the screw and bore out the hole more until you have up to 3/4-inch penetration.
Tip
Start out with the same length of screw. If your pocket boring machine is set for 1½-inch pocket screws, use a 1½-inch drywall screw.
Warning
Always wear safety glasses when working with wood.