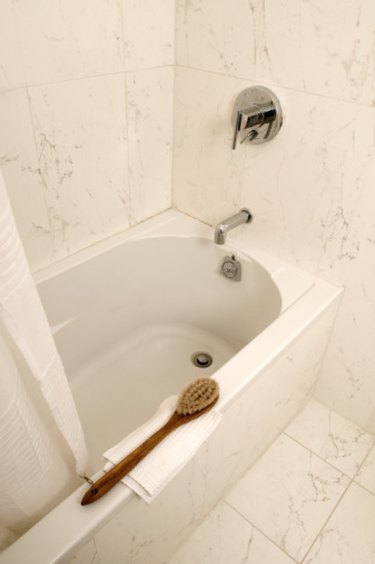 Laundry detergent is the key component to an effective cleaning solution. This cleaning solution will help remove soap scum residue, mold growth, dirt and other contaminates. Use a solution of liquid laundry detergent and water to rinse out dirt and a paste of powder laundry detergent and water to scrub away difficult stains such as soap scum, hard water or mold growth. Clean bathtub stains often to prevent them from soaking into the fiberglass or porcelain bathtub.
Step 1
Add just enough water to 1 cup powdered laundry detergent to make a thick paste.
Step 2
Spread the paste directly onto the stained area on the tub.
Step 3
Let the paste sit for 20 minutes.
Step 4
Scrub the paste into the stains with a clean cloth until you remove the stains.
Step 5
Mix 1 tbsp. liquid laundry detergent with 1 cup hot water.
Step 6
Dip a scrubbing brush into the laundry detergent solution and scrub the entire surface of the bathtub. Reapply laundry detergent solutions as needed until the entire tub is clean.
Step 7
Rinse the tub with clear water.