Things You'll Need
Coconut

Newspaper

Acrylic paint

Paintbrushes

Permanent marker

Acrylic varnish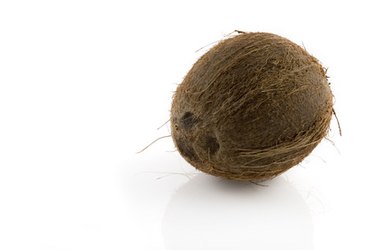 Kids and adults will enjoy painting tropical designs directly on coconuts. Coconut painting is ideal for tropical-themed parties (guests can take their coconuts home as party favors) or tropical vacations (instant souvenir!). If you decorate a coconut while on vacation, you can even mail it to a friend -- it's a lot more exciting than a postcard! The rounded shape and rough texture of a coconut make it difficult to paint elaborate designs, but the basics -- ocean, sky and maybe a few palm trees -- can easily be accomplished with acrylic paint.
Step 1
Check that your coconut is firm and dry. Do not paint coconuts that aren't brown, have bugs or show signs of rotting.
Step 2
Place newspapers underneath your coconut to protect your work surface.
Step 3
Hold the coconut steady with one hand and paint the first layer of your design, using a paintbrush dipped in acrylic paint. For example, if you want to paint a tropical island, paint the sun, sky and island. Wait for your first layer to dry.
Step 4
Add details to your decoration. For example, add a cluster of palm trees to your island and paint a few gulls in the sky. Allow the paint to dry.
Step 5
Paint a white rectangle about 3 inches tall and 5 inches wide on the other side of the coconut if you want to mail the coconut. Allow the rectangle to dry and then write the postal address with the permanent marker.
Step 6
Spread acrylic varnish over the entire coconut, using a clean paintbrush. Acrylic varnish protects your design from damage.
Tip
Store painted coconuts in a cool, dry area to prevent mold and rot.
Warning
Do not shake acrylic varnish, because this may cause air bubbles. Stir varnish, if necessary.