Things You'll Need
Spray bottle

Oil

Water

Vodka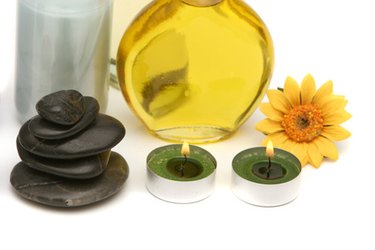 There are certain substances that are known to be helpful in removing dirt and stains, like water, and certain substances that are helpful in cutting grease, like orange oil. Because oil and water do not naturally mix together, it is important to use another binding agent to help distribute the oils throughout the water. You can bind oil and water together effectively into a solution by adding a form of alcohol, such as vodka, into the mixture.
Step 1
Fill an empty, clean spray bottle with 8 oz. water.
Step 2
Add 1 tsp. oil to the bottle.
Step 3
Pour 2 oz. vodka into the bottle. The vodka will act as a binding agent to combine the oil and water.
Step 4
Screw the top back onto the spray bottle, then shake the bottle well.