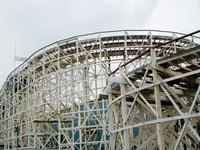 Building a mini roller coaster requires a basic understanding of how roller coasters work. Generally, the roller coaster will glide down a hill to pick up speed before going up and over a hill. Designing a mini roller coaster at home can be a fun and simple project. A stack of popsicle sticks, some tin foil and hot glue can be used to make the mini model. The coaster can then be ridden with a small marble or toy car.
Things You'll Need
Popsicle sticks
Scissors
Hot glue
Place a table three feet above the ground. Lay popsicle sticks going across the the table to make a railroad. Keep a half-inch between the sticks to lay the popsicle tracks.
After reaching the end of the table with popsicle sticks, hot glue the sticks and tracks together. Continue laying popsicle stick tracks going off the table onto the floor creating a downhill slope.
Place bricks under the tracks going off the table down onto the floor for support.
Lay tracks on the ground leading up to a 6-inch hill.
Place bricks under the 6-inch hill for support.