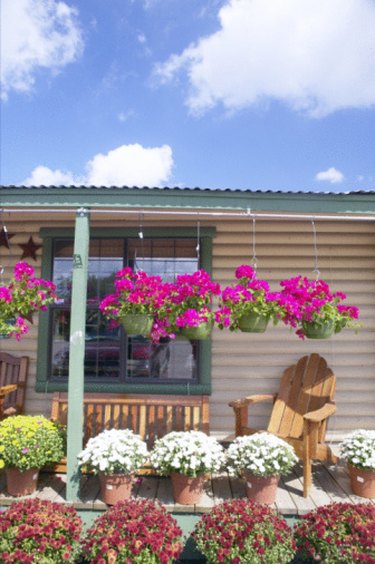 Mobile homes are considered vehicles in most states because at some point, the home had wheels. Missouri classifies mobile homes under vehicle registrations is many cases, but if the home is permanently attached to the ground, it becomes real property. To transfer the title to a new owner, you must work through both the Department of Motor Vehicles and the Department of Revenue, depending on how the mobile home is placed.
Nonpermanent Mobile Homes
Step 1
Contact the Missouri Department of Revenue regarding title paperwork. Visit their website, if you prefer, and download the vehicle title forms. Some of the forms you request cannot be downloaded, so they are mailed to you.
Missouri Department of Revenue Motor Vehicle Bureau PO Box 3355 Jefferson City, MO 65105 573-526-3669
Step 2
Fill out the paperwork, including the names of the current owner and future owner, make and model of the home, sale price and any other information required. Copy your bill of sale to send in with the paperwork. Sign the form and have the buyer sign as well.
Step 3
Contact your bank for ownership paperwork if you don't own the home outright, and fill out lien release Form DOR-4809. Ask the seller to fill out Form DOR-5049, the notice of sale or transfer. Visit the Department of Labor office or their website for these forms.
Step 4
Follow the same process to transfer ownership whether you are selling or giving the home away.
Step 5
Turn the paperwork in to a local office of the Department of Revenue, and receive new title paperwork to give to the buyer.
Step 6
Turn the new title over to the buyer, and have him contact the local Missouri Department of Motor Vehicles to change the registration paperwork.
Permanent Mobile Homes
Step 1
Request a deed form from the Register of Deeds in your Missouri county. Typically, this office is located in county office buildings or the courthouse and is part of the public records department. Request a warranty deed if you want to guarantee certain things at the time of transfer, such as no other individuals having any claim to the property. Request a quitclaim deed if you will offer no guarantees.
Step 2
Fill out either form, and have your signature witnessed by a notary public. Both the current owner and future owner must sign in the notary's presence.
Step 3
File the paperwork with the Register of Deeds, who will provide a copy of the records to the new owner.